Castles and Dragons
In the Autumn term, Year 4 learned all about Castles and Dragons! We visited Beaumaris Castle which is an example of a concentric castle which was built by King Edward 1 in 1295. He built an 'Iron Ring' of castles around North Wales in his quest to rule Wales. Llywelyn the Great, Prince of Wales, defended the Welsh and rebelled against King Edward. Beaumaris means beautiful marsh.
We had so much fun with Mike the Knight -we sat on real animal skins and learned about the evolution of swords through the ages. He told us how knights lived and how leather was used to make mugs and all sorts of clothing. He even told us how poo was used to prepare leather - ew!! It was great fun!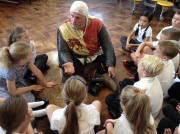 Ruth Moore Williams told us how people lived long ago and even brought musical instruments too!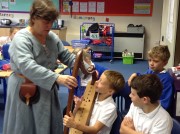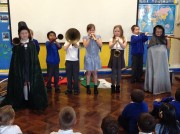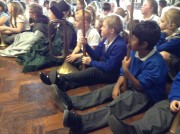 We loved making model dragons and mini castles out of clay.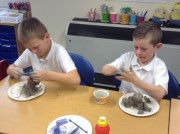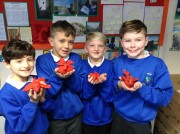 Our watercolour paintings in the style of J M W Turner are fantastic!